We have a Braun Thermoscan infra-red (IR) thermometer that has been working perfectly for about five years. It started complaining about low batteries and shutting off, despite me replacing with new batteries that I checked had plenty of charge.
When I opened it, I discovered that the batteries connect to the circuit board via simple metal clip contacts, and that the contacts had some corrosion on them, which was preventing power from getting to the board, hence why it was complaining of low batteries.
So a very simple fix is to just clean the corrosion from the battery terminals inside the thermometer. You'll need a Torx T9 screwdriver (Maplin, eBay, Amazon, maybe pound shops).

Start by removing the battery cover and the batteries. The image below shows the location of the screw in the battery compartment, that when removed will allow you to open the thermometer casing, which separates into the two halves.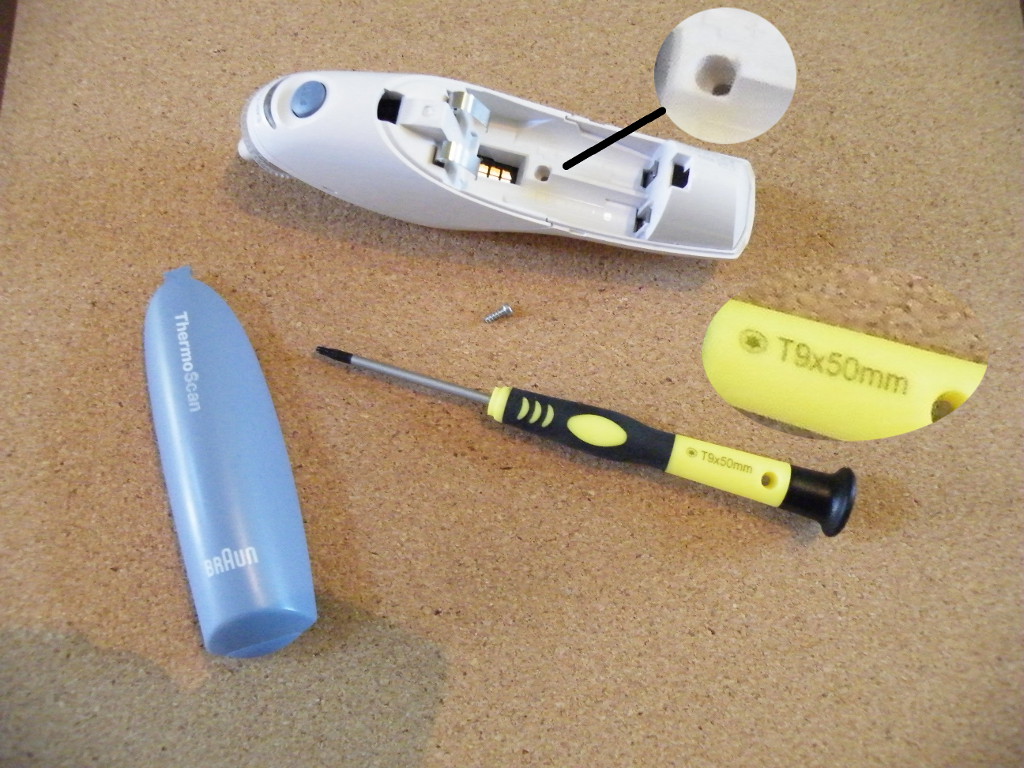 The next image (below) shows the location of four tabs (marked as 'x') that clip the two halves of the case together – they can be squeezed and prised apart gently to un-clip, and the case should come apart quite easily.
Note that for two of the clips, the top half of the case clips into the bottom half, and for the other two the bottom half clips into the top – it might help you figure out which bit to squeeze and which bit to prise, but in any case  I managed fine without that information.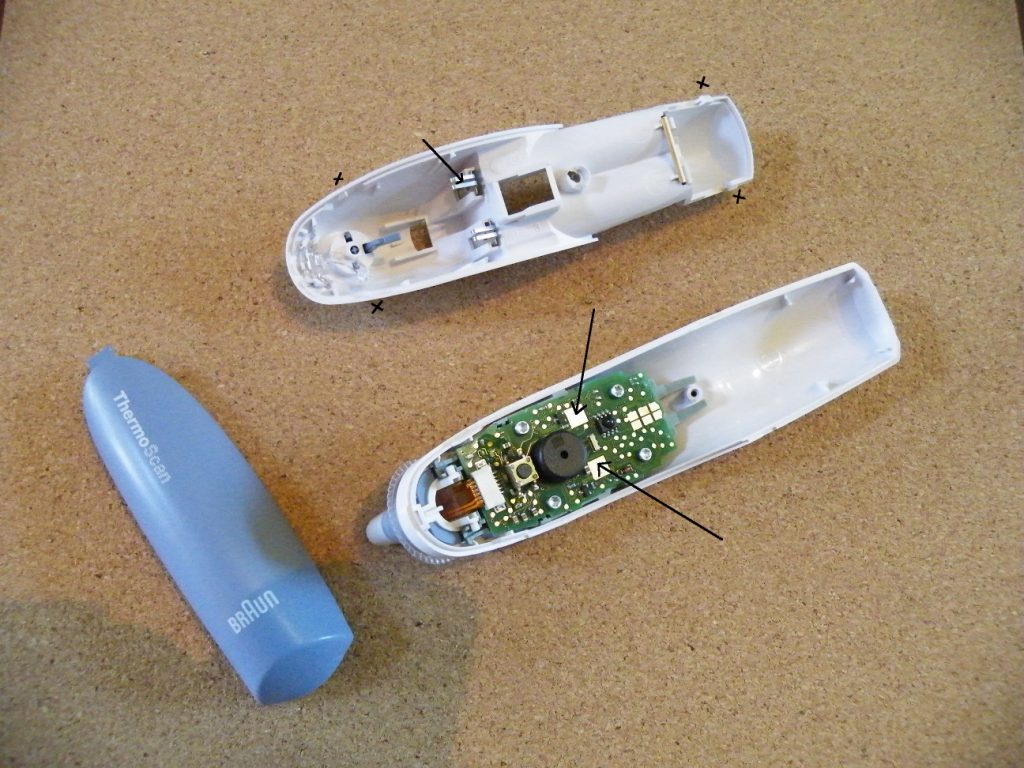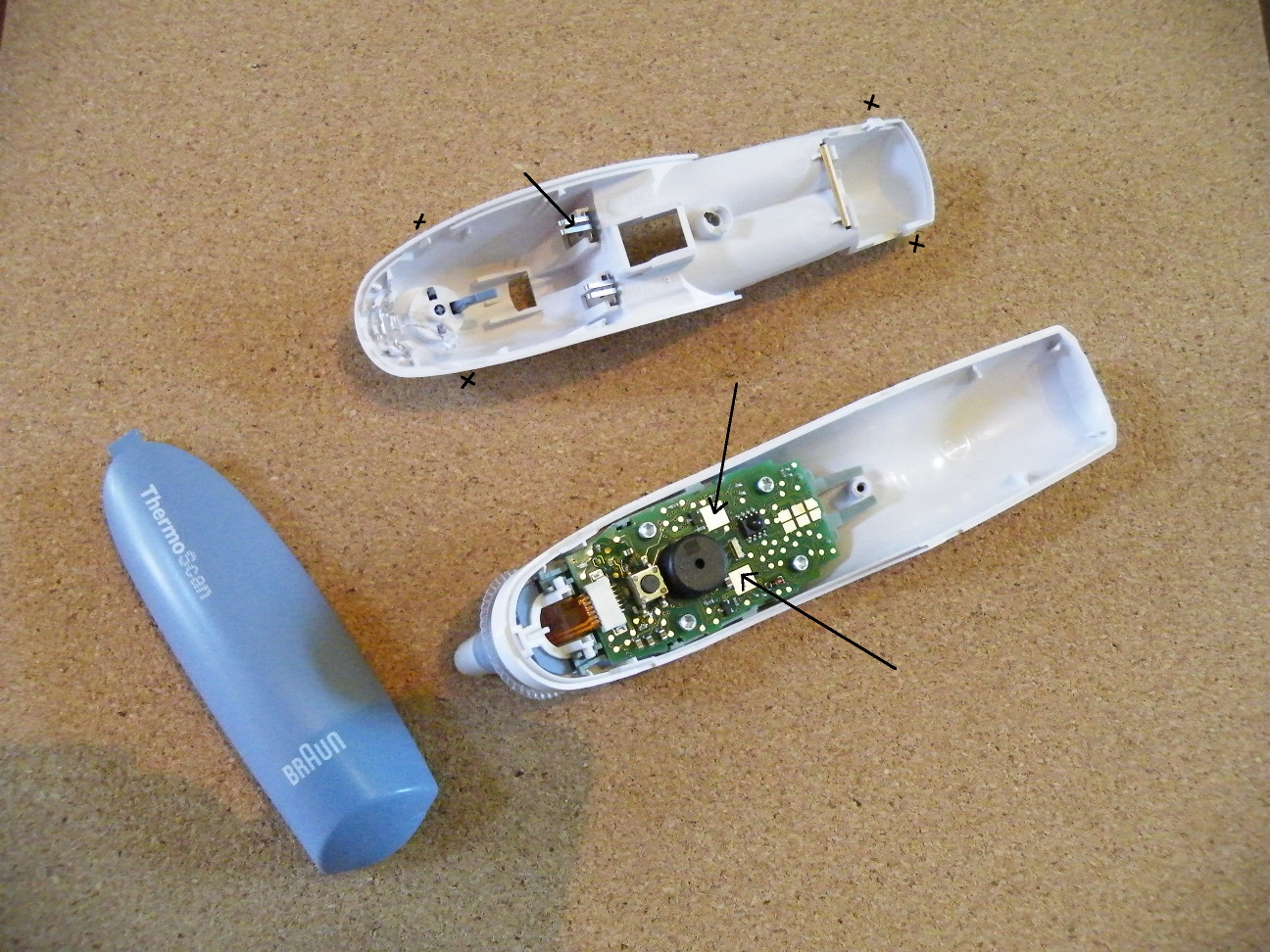 This image above also shows the contact points on the circuit board for the battery connection. This is where some corrosion had formed, and I could remove it simply by scraping lightly with a small screwdriver (the corner of a scourer would also have worked).
With the corrosion gone, the thermometer was working perfectly again. I just had to clip the case back together, replace the screw, then the batteries, and that was it all done.
This design probably applies to other variants of Braun Thermoscan thermometers – they all look roughly the same, just differing in features such as pre-heating, illuminated displays, reading memory, etc.
Braun: this is a design flaw. A bit of wire soldered on would have prevented this product from failing prematurely. One corner too many cut in production, I think.